Classic Board game for learning English. Download the image of the playing field and the rules of the game in the format of a document Word

DOWNLOAD char4colorfield.doc >>

This Board game allows very reliably to learn 500 English words per week. Any other way you will not get such a result. Even a simple "memorization" will not allow you to memorize words reliably. The reason is that the "memorization" of the student reduced motivation. While the Board game "words" - on the contrary, the motivation is maximum.
The game is absolutely not complicated. This is a common game-hodilka with the movement of the chips along the paths of the playing field. With a few additions to ensure the effectiveness of training. Students perceive these classes as a game, not as a study.
The playing field can be printed from the file. But if you don't have one handy you can just draw with a pen and paper. Play will be no less interesting. Yes, and drawn the field might look very interesting

All Files List >>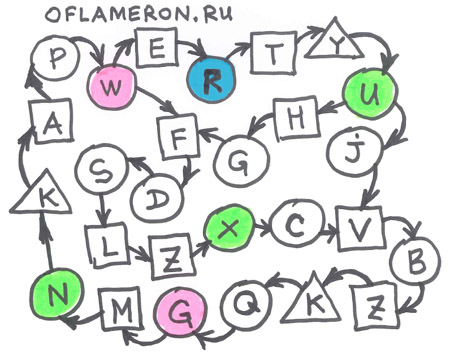 1 2 4 5

Quote: Moderne standaard Duits is een West-Germaanse taal die afstamt van de Germaanse tak van de Indo-Europese talen. De Germaanse talen zijn traditioneel onderverdeeld in drie takken: Noord-Germaans, Oost-Germaans en West-Germaans. De eerste van deze takken overleeft in het moderne Deens, Zweeds, Noors, Faeroer en IJslands, die allemaal afstammen van het oude Noors. De Oost-Germaanse talen zijn nu uitgestorven, en het enige historische lid van deze tak waaruit geschreven teksten overleven is Gotisch. De West-Germaanse talen hebben echter een uitgebreide dialectale onderverdeling ondergaan en zijn nu vertegenwoordigd in moderne talen zoals Engels, Duits, Nederlands, Jiddisch, Afrikaans en andere.

Tag:




Irregular verbs

Foreign language

Adjectives

Learn foreign phrases:
Que Vous gagnez la vie? - What do you do for a living?

Foreign language