Free Proxy server on PHP. Download full version and upload on web server as web page. Sample - mib.php Versions of the program are constantly being improved. A Web proxy allows you to browse the web without CHANGING your BROWSER SETTINGS. Use paid or free hosting with support PHP and CURL function

Version 0.3 betta. mib.php 03/07-2017



Register hosting, upload a web page with proxy server (mib.php) on web server. When you call a web page in the browser will load the web site listed in the variable $url = "http://gunner.vov.ru", You can specify another website address.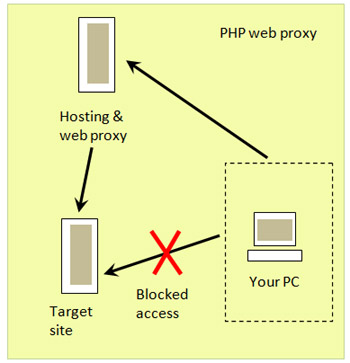 Example to load website:
http://www.oflameron.ru/mib.php/?web=http://gunner.vov.ru

Web Proxy is convenient to be done for each site separately. Ie you will need 3-4 web proxy. They will be slightly different. For example, processing links HREF=
In return, you get the most simple source code which can be easily upgraded, if the web server will make improvements.
Web Proxy allows for a few minutes to write a filter for the ad blocks.

Web proxy is constantly being improved. Debugged version for Linkedin or Facebook will get a version 1.00


Free proxy Server